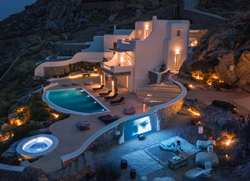 Luxury real estate agents Mauricio Umansky, David Parnes, James Harris and The Agency partner with Sonhaus
"The agency is delighted to partner with Sonhaus for sales and distribution in these markets, bringing this innovative product to the burgeoning global luxury second home market." said Mauricio Umansky, founder and CEO of The Agency.

LOS ANGELES (PRWEB)
July 25, 2022
Global real estate agency, The Agency, its founder and CEO, Mauricio Umansky and leading luxury real estate agents, David Parnes and James Harris, proudly announce that they now exclusively represent Sonhaus for sales and distribution in the United States, in Canada and Mexico.
Sonhaus offers luxury second home co-ownership in some of Europe's most desirable locations. Offering the option of splitting the investment between eight owners, Sonhaus allows buyers to own multi-million dollar properties for a fraction of their market value. Mauricio, David, James and The Agency will lead the sales and distribution of the superbly designed, fully managed and serviced properties located in Europe's most renowned and sought after second home markets including Marbella, Mykonos, Ibiza, Algarve and Majorca, with expansion plans. worldwide.
"The agency is delighted to partner with Sonhaus for sales and distribution in these markets, bringing this innovative product to the burgeoning global luxury second home market." said Mauricio Umansky, founder and CEO of The Agency. "Over the past few years, we've seen the rise of condominiums and we look forward to bringing this unique and seamless experience to buyers looking to own property in many of the world's most desirable destinations."
"Sonhaus sees the agency as its natural partner for sales and distribution in these markets, offering new and existing clientele a gateway and access to the experience and prestige of owning a home in the world's best locations at a price that would previously have been unthinkable." said Jacob Lyons, founder and CEO of Sonhaus. James Shalson-Marshall, Head of Growth and Agency Relations, added "I'm thrilled that the agency is our exclusive sales and distribution channel in the United States, Canada and Mexico, and working with them. to sell Sonhaus houses."
Offering a new class of luxury second homes, Sonhaus puts an end to the challenges traditionally encountered when buying a property overseas, guiding buyers through the entire process, including financing, administration and l insurance to local banking and invoicing. Buyers are carefully vetted to ensure the quality of the property is maintained, while the intuitive online platform simplifies the process of buying, selling, trading and renting properties from other Sonhaus owners. Sonhaus' commitment to keeping management fees low and transparent ensures that there are no surprise or hidden costs for owners. Planning is managed through the Sonhaus Stay app which dynamically manages supply and demand and owners are selected from a range of countries to ensure there is limited, if any, crossover of requested stays . The Sonhaus Stay app also manages property visits, helping to coordinate a stay prior to arrival.
"Sonhaus is revolutionizing condominium space and we are thrilled to share this unique offering with buyers who have always dreamed of owning a home overseas," said David Parnes of The Agency. "Sonhaus removes the barriers of not only buying a property in another country, but also managing and designing that property, creating a one-stop-shop for owners."
Sonhaus builds a network of like-minded partners who each add to the Sonhaus experience. The houses are all elegantly decorated and furnished with interiors by RH Contract (Restoration Hardware). Each house comes with a fully equipped home office and home gym equipped by wellness company Technogym. Stunning chef-ready gourmet kitchens are stocked with Gaggenau appliances and car hire is arranged by Hertz, with all Sonhaus owners automatically receiving coveted Five Star elite status in the award-winning Hertz Gold Plus Rewards loyalty program ®.
Currently, Sonhaus has around 150 properties on its list and is looking to acquire many more.
For more information about Sonhaus, please visit http://www.sonhaus.com or contact Jacob Lyons or James Shalson-Marshall on +44 (0)207 459 4205. For sales inquiries, please contact Mauricio Umansky on 424.230. 3701, David Parnes at 424.400.5916 or James Harris at 424.400.5915.
About the agency

The agency is a technology-focused global luxury brokerage, representing clients around the world in a wide range of categories, including residential, new developments, resort real estate, luxury rentals and vacation rentals. Breaking away from the traditional brokerage model, the Agency takes a collaborative approach to business, fostering a partnership culture in which all clients and listings are represented in a collaborative environment. Agents and clients benefit from the shared resources and networks of the entire global team, including internal creative, public relations and advanced technology divisions. The agency has closed more than $45 billion in real estate transactions since 2011, comprising more than 60 offices in six countries and is one of the fastest growing luxury real estate brands in the world.
About Sonhaus

Launched in 2022, Sonhaus Homes offers security, privacy and peace of mind to second home owners in Europe's most desirable locations. The properties are fully managed, setting high standards for sustainability by leaving a low carbon footprint and using renewable energy wherever possible. All household management, administration and upkeep is handled by Sonhaus Management, allowing homeowners to simply show up and enjoy their home, equipped with the latest cutting-edge technology from some of the world's best-known brands. world.
The Sonhaus service includes overseeing all financial aspects of the property, and all financing for the home acquisition is sourced or provided by Sonhaus.
Sonhaus Fractional Ownership – How It Works

Each Sonhaus home has up to eight co-owners and each owner will have gone through a rigorous application process to ensure a high quality property is maintained. Ownership is through a limited liability company created by Sonhaus for each house and fully fenced.
Each Sonhaus Owner is responsible for their prorated share of the annual cost of ownership. This includes ongoing maintenance and management of the property, insurance, financing, if required, and contingencies. This also includes taxes, legal fees or other property-related costs. All costs are presented to each Sonhaus Owner on a monthly or quarterly basis, detailed and fully transparent. Detailed forecasts ensure that these costs are also highly predictable – a Sonhaus owner will always know what they are paying, how much and why.
The Sonhaus service provides access to an experienced Sonhaus representative from the initial point of contact through the purchase of a Sonhaus home, and beyond. All third party rentals and sales will also be handled by Sonhaus.