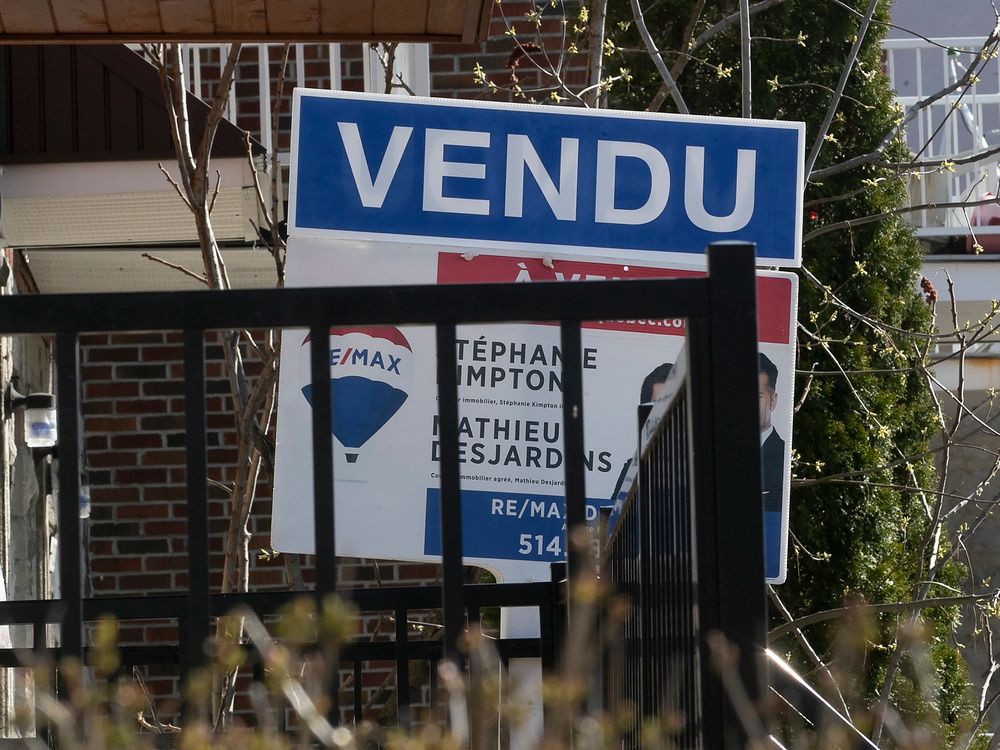 Montreal Residential Real Estate Sales Drop in September as Active Listings Rise
The sharp rise in interest rates and less dynamic job creation have cooled activity in major urban centres, according to an economist.
Content of the article
Residential property listings in Greater Montreal jumped in September as home sales posted their biggest year-over-year decline in 17 months following another outsized rise in interest rates.
Content of the article
Some 2,537 transactions were concluded in the Montreal metropolitan area last month, a drop of 30% compared to September 2021, according to the latest Centris database numbers compiled by the Professional Association of Quebec Real Estate Brokers (APCIQ) and made public on Wednesday. Active listings jumped 44% year-over-year to 15,550, punctuated by a 61% increase in the number of single-family homes for sale, and are now approaching pre-pandemic levels.
Content of the article
The last time monthly sales fell this much was in May 2020, at the start of the COVID-19 pandemic, when transactions in Greater Montreal fell by 41%, according to QPAREB data.
Rarely, fewer transactions took place last month than in August. It was the first time since 2013 that such weak sales were recorded in September, which is traditionally one of the busiest times of the year, with activity tending to rebound after the start of the school year.
Content of the article
"It's symptomatic of a market that is cooling significantly," said Charles Brant, head of market analysis at APRQAP, in a telephone interview on Wednesday. "Demand has dropped significantly over the past few months and oversupply has started to build up. The market is not balanced yet, but we are getting closer.
Residential real estate sales have taken a hit this year as successive increases in interest rates make it considerably more expensive for buyers to borrow money. The Bank of Canada raised its policy rate last month by three-quarters of a percentage point to 3.25% in an effort to control inflation. Given the outlook for inflation, interest rates "will have to rise further", the bank said on September 7. A year ago, his policy rate was 0.25%.
Content of the article
"There's no doubt that sharp increases in the Bank of Canada's policy rate and less buoyant job creation have cooled residential activity in major urban centers in recent months," said Daren King, economist to the National Bank of Canada, in a note to clients. . "Since we expect the central bank to announce another key rate hike this month, we expect trades to continue to weaken over the coming months."
Sales of condominiums and plexes — defined as buildings with two to five units — were particularly hard hit in September, falling 39% and 38% respectively. Single-family home sales fell 21%.
On the island of Montreal, transactions plunged 39% in September, while active listings jumped 34%, according to APRQAP data. Year-over-year sales declines reached 38% in St-Jean-sur-Richelieu, 36% in Vaudreuil-Soulanges, 24% in Laval and 23% on the South Shore.
Content of the article
After four consecutive months of declines, single-family home prices in the Montreal metropolitan area rebounded slightly in September. The median price for a single-family home last month was $535,000, up 6% from April. Condominium prices rose 4% to a median of $380,000, while plex prices fell 1% to $685,000.
Even so, single-family home prices in Montreal have fallen about 10% on average since April, Brant said. Three in 10 property sales now involve multiple offers, half of what last spring, he said.
"Prices are adjusting," Brant said. "There is more room for negotiations. In some cases, people were able to buy below listed prices, which we didn't see in the spring. »
September also marked the first month this year that the time required to sell a single-family home increased. The average selling time in Greater Montreal last month was 34 days, compared to 32 days in the same month of 2021, according to data from QPAREB. It took 44 days to sell a condominium, compared to 45 a year ago, while the average selling time for a plex fell from 53 to 52 days.
Home sales in Montreal have fallen 20% since August 2021